Our annual 40 Hours Devotion will be held from September 12 to 14, 2023 (Tuesday – Thursday). Fr. Charles J. Ravert, pastor of St. Ambrose Parish, will be our guest homilist. The Adoration of the Blessed Sacrament will begin each day after the 8:00 AM Mass until the 7:00 PM Mass. Please consider committing to at least an hour of prayer before the Blessed Sacrament by filling out the form in the bulletin or by signing up below.
The Mass on Thursday, September 14, 2023, will also mark the beginning of our year-long celebration of St. Helena's 100th Anniversary.
---
About the Homilist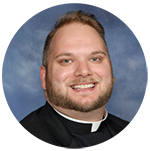 Father Charles J. Ravert, Pastor of St. Ambrose, will be leading our 40 Hours this year. He was ordained a priest in 2014 and since then has served four years as Parochial Vicar of St. Charles Borromeo Parish in Bensalem and then for two years at St. Stanislaus Parish in Lansdale. Father Charles grew up in the Manayunk section of Philadelphia, not too far from St. Ambrose. His home parish is St. John the Baptist where he also attended grammar school. For high school he attended Mercy Career and Technical School where he was trained as a Certified Nursing Assistant. After graduating high school in 2006 and working as a nurse at St. Joseph Villa in Flourtown, he was accepted at St. Charles Borromeo Seminary. In 2013 he was ordained a Deacon and assigned to St. John the Evangelist Parish in Lower Makefield. Finally on May 17, 2014 Father Charles was ordained to the Sacred Priesthood by Archbishop Charles Chaput.