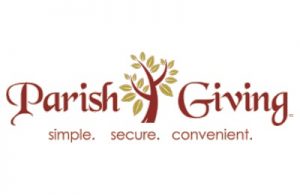 St. Helena Church has partnered with Parish Giving to provide its members with the opportunity to use Electronic Funds Transfer as an alternative to weekly envelopes.
Parish Giving is offered free of charge. At the same time, St. Helena Church will benefit from a reliable, more efficient, and more convenient means to process contributions that make it possible to support our mission.
It's Simple:
Just click on the Parish Giving Logo within this website and follow the easy registration instructions.
It's Secure:
Parish Giving is PCI compliant and uses the strongest SSL encryption technology available.
It's Convenient:
No more searching for the check book on Sunday morning stops at the ATM machine.
You can pick the day of the month for the recurring contributions to be processed.
Tax Benefits:
You will be able to print out a report detailing your contributions for the year.
Parishioner Benefits:
Weekly or monthly contribution choices
Ability to choose date and frequency of contributions
---
PARISH GIVING TUTORIAL

---
---
CREATE AN ACCOUNT.
Click on 1 – Sign Up or Create New Account.
Fill out the form with your information. Then click SAVE.
LOG IN.
Enter your username and password in the 4 – Returning User Login box then Click on 2 – Login.
MAKE ONE-TIME CONTRIBUTION AS A GUEST.
Click 3 – Pay Now.
Choose payment type and enter your payment information (A). Enter your contact information (B). Then click NEXT (C).