2 Things You Can Do for Others this Lent
Aid For Friends
Aid For Friends is a local non-profit organization that helps our community's seniors and homebound by providing them meals prepared by volunteer cooks at their own homes. Aid For Friends provides a perfect opportunity for those who would like to help but unable to actually set a scheduled time to participate in organized outreach events.
As a home cook, make an extra portion every time you make dinner, fill a tray with food, freeze it and bring it back to church next time you attend Mass. Please see Sr. Sophie after Mass to pick up meal preparation packets – including aluminum trays, plastic bags and meal labels.
Food Pantry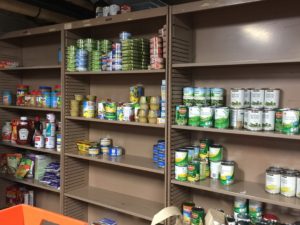 You can always donate food to St. Helena's Food Pantry and Lent is a special time to start if you aren't doing so already.  Set a box in a visible area in your home as a reminder of your intention to help feed the hungry in our community. Then, next time you go to the grocery store, pick up an extra can of tuna or a pound of pasta.  Put it in your food box and fill it throughout the Lenten season.  You can drop your donation off at the Food Pantry on Tuesdays and Thursdays between 9:00 AM and 1:00 PM.